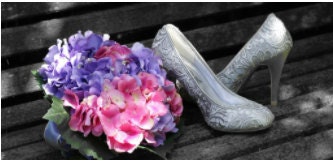 Not that there is anything wrong with a traditional all white wedding but many couples are now breaking away from traditions of old and are making new ones. Coloured weddings are now a thing of the present but there is a new trend afoot. Coloured affairs, as opposed to all-white, have up to now, taken the format of monochromatic schemes i.e. all blue or all purple with varying tones and shades of the same. More recently, the monochromatic scheme has battled for place alongside two tone weddings e.g. gold and silver, white and gold, white and green, to name but a few. We have however, slowly started to see multicoloured bouquets and bridesmaids dresses popping up and could it be that a new approach to colour schemes could be starting to make a new trend? Here is how it works… By choosing a neutral base (white, coffee, mocha, cream, beige) and adding colour to it, you have a whole new range of colour possibilities. The colour chart is now your oyster. Why limit yourself to purely red or pink centrepieces and a matching bouquet? I mean, why you can't have your bouquet one colour and your table décor another? This isn't to say you have to go all rainbow on me – to create a classy, stylish look, all the table arrangements should be uniform but if your colour scheme base is…say…cream, white or coffee – any number of colour combos will work beautifully and harmoniously – a match made in heaven (pun intended!). Your table runner therefore doesn't have to be the same tone of blue as the flowers. Napkins don't have to match your bouquet and the bridesmaids dresses could be another colour completely. So long as it all blends, you have a winning set-up. Think about it as if you are creating a colour concept rather than a theme. We don't tend to decorate our houses in one or two solid colours but rather mix and match colours that tone and contrast. We then bring in decorations to complement, enhance and create focus– so why not do the same with wedding venues?. You don't want an eclectic mishmash however – so think blend blend blend! Cleverly choose colours that can be paired together and the result is astonishing.  
Choose your base colour – must be a neutral e.g. coffee,
Select colours that a) work well with coffee and b) you like e.g. pink, blush, red, terracotta, orange, cream, beige, chocolate, champagne, if you like warm tones. If you prefer blue tones, choose from: blue, purple, pink, silver, violet, green. All of these blend, complement and contrast with coffee but not clash with each other.
Don't go too multicolour (unless that's your plan of course) but choose your top three or four fave colours from your selection that you would like to work around. So going back to our example… if your base colour is coffee, your top colour picks could be: blush, champagne and terracotta. See how this is beginning to take shape.
Add in as many neutrals you need to complement or make your colour concept take form. Adding in white or cream here or there as a background colour can help the others stand out and create focus, interest and gives your colour vision a new dimension. In this case, a cream or white tablecloth and a coffee table runner is extremely elegant. Add to this a table arrangement of red flowers (for example) and the eye will be drawn slowly upwards. White flowers, a coffee runner and a white tablecloth is definitely classy but the colour dimension will give it a certain 'je ne sais quoi'.
As for the flowers; these don't have to be a one-colour only affair either but colourful combos of blush, white/cream, terracotta and greenery
Pick out décor that works within this colour concept e.g. champagne, gold or silver coloured candle holders; cream, coffee or blush coloured candles. This delicate blend will create a nice flow along the tabletops giving your guests more to take in and admire.
Working outside of the monochromatic or two tone colour scheme also succeeds in easing some of the decision making dilemmas, such as which flowers you need to choose for your tablescape that will best match your bridesmaid dresses. You will also find that you will be able to give your tables a much fuller look with a lot less decoration. Consider it a colourful budget friendly illusion but hey, it works.