To follow on from the previous post on DIY bridal make-up, we thought it useful to supply some top tips on tools to use. We are not advocating any type of brand, just providing examples…the make you use, is really up to you and your budget and there is nothing wrong with mixing and matching!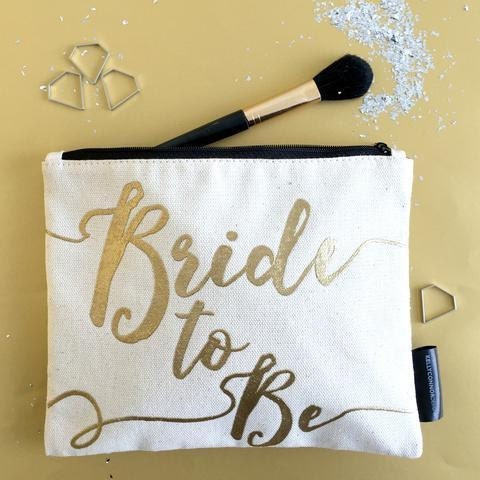 Blending sponge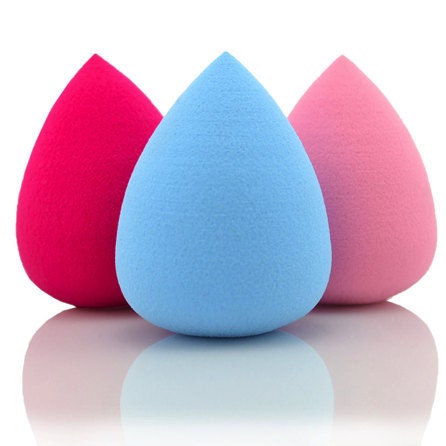 This delightful egg-shaped blending sponge provides an all round smooth application of foundation – a match made in heaven for liquid foundation users, it much better than fingers, brushes and wedges. It's shape allows for a more even spread across the contours of the face than a flat sponge and doesn't leave any streaks. Bending sponges are ergonomically comfortable to hold and are particularly useful for application of foundation around the delicate eye area and onto the lid. It is also wonderfully brilliant for removing mascara or eyeliner smudges. Easily washed and dried, it tends to last much longer than a sponge wedge. 
Flat angled precision brushes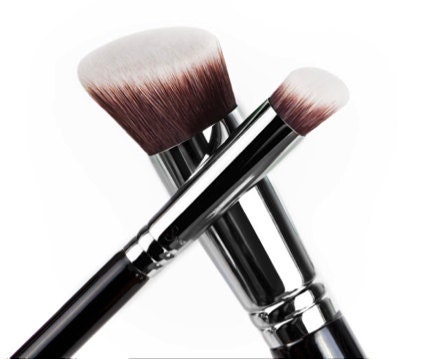 This great for apply contouring make-up cream or liquid to cheek bones. The angle spreads the make-up nicely and evenly to make it easier to blend in. The size of the brush will really depend on how much contouring make-up you wish to apply. Personally, we advise to go for a small to medium brush head and build as necessary. Blend and build, blend and build until you have the desired effect. Remember it is always easier to add rather than take away. Use a similar angled brush to apply highlighter under the eyes.
Thin angle eyeliner brush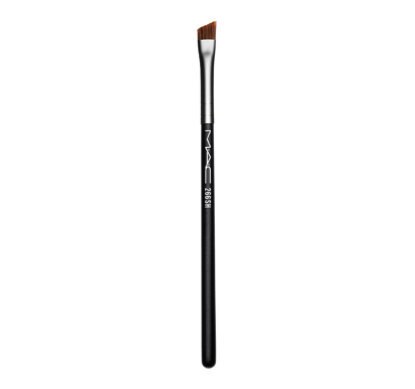 This needs to be thin in order to apply a neatly controlled line of eyeliner on both upper and lower lid. The angle allows you to easily follow the shape of the eye and the pressure applied will determine density of the make-up. Use also to smudge eyeliner pencil or liquid liner along the outer lines of the eyes for a soft, smokey sultry look.
Classic crease brush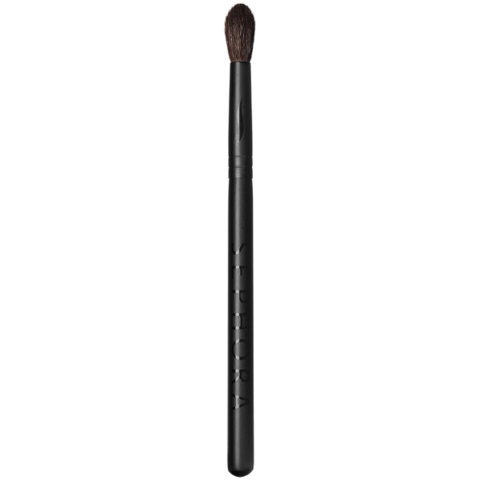 This long tipped brush is perfect for adding colour to your crease line. The soft, slightly pointy tip ensures that eye shadow doesn't creep onto other areas of the lid as you apply it but is soft enough to allow you to sweep it back and forth for an even deposit of color. A multipurpose tool, it also works a treat for fading out eye shadow if you feel you went in a bit heavy and achieving a subtle light to dark ombre effect.
Long tipped eye shadow brush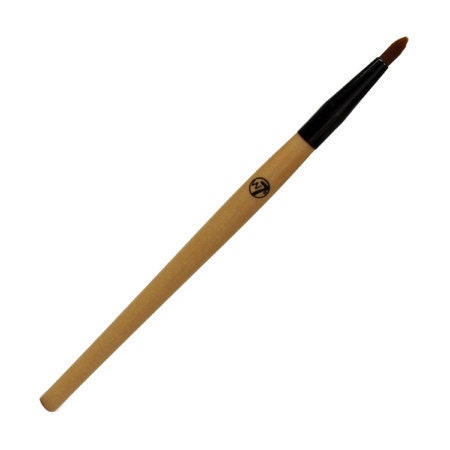 The firm bristles allows you to place make-up exactly where you need it right into the outer edges of the eye.
Round Face Brush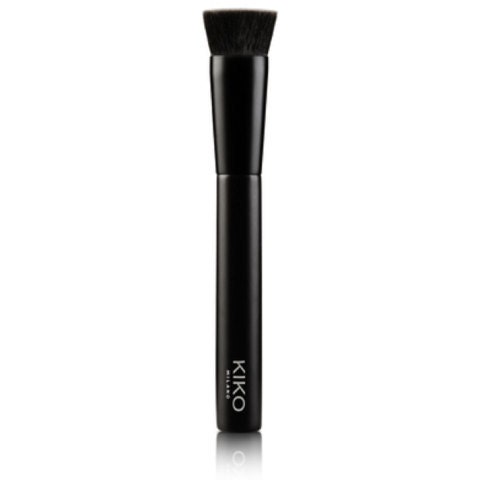 This wonderful brush is perfect for blending in your contouring make-up and foundation. Ones with a sponge centre such as the Kiko Milano face brush FACE109, not only allow for even distribution of product but help remove any excess liquid or cream. Apply a small amount of foundation onto the sponge to lighten out the load if you went in too dark with your contour color. When choosing your brush, bristles should be flexible but firm enough to thoroughly blend in product without having to drag. Best method is to dab the bush repeatedly onto your cheeks to gently blend your make-up for an even finish. 
Kabuki brush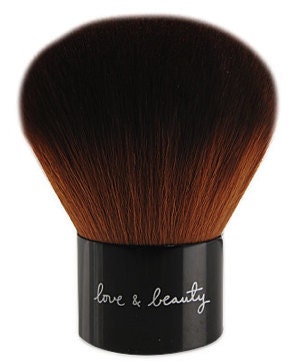 The smaller the brush the more control you have over it. This style of kabuki brush or mushroom brush is brilliant when it comes to bronzer and translucent power. It creates a very natural looking yet controlled coverage without make-up appearing too dark.
Long handled loose powder brush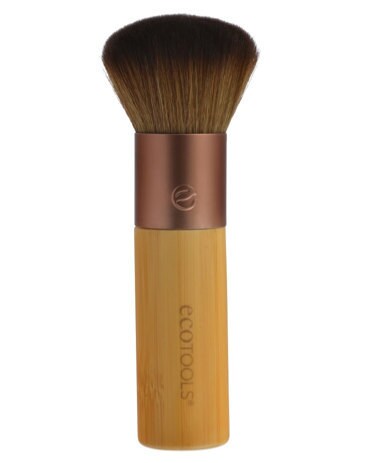 The longer handle, as opposed to smaller ones, often allows for a gentler, lighter application of blusher and/or highlighting powder to create a natural glow effect. 
Brow brush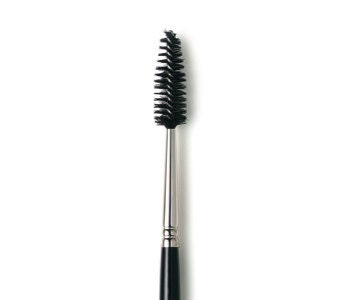 Looking a lot like a mascara brush, an eyebrow brush (if it doesn't already come at the other end of your eyebrow pencil) is a great tool for blending in applied color, working out any clumping and smudging it out to avoid awkward looking lines.
Regular Eye Shadow Brush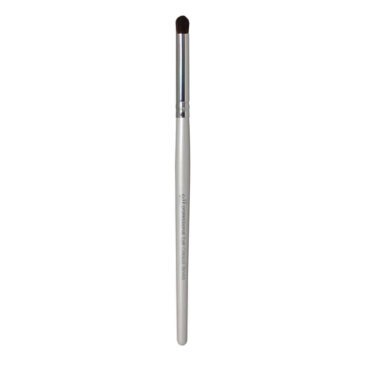 Small and rounded, it allows eye shadow to be evenly and smoothly applied on the lower part of the lid without interfering with the crease line. Use also to apply a neutral base color over the eyelid and up to the brow.
Eyelash Comb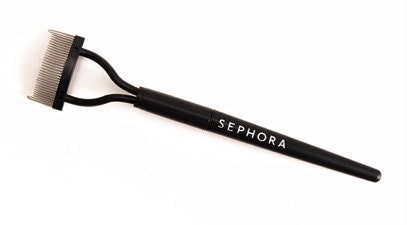 Mascara is notorious for clumping, although make-up marketing departments go to great lengths to say otherwise. Whether all brands do or don't cause clumping issues, it happens at point or another to the best of us. Gently comb through to separate the lashes before the mascara dries.