Pretty In Peach Not everyone wants the so-called traditional white and it turns out that white was not the only choice way back when either. Oh and despite the title being peach, we couldn't resist but sneak in a few pinks…the moral of this story being that that yes, you can ditch the white wedding and still style it vintage!1930 ASYMMETRICAL SILK SATIN VINTAGE WEDDING DRESS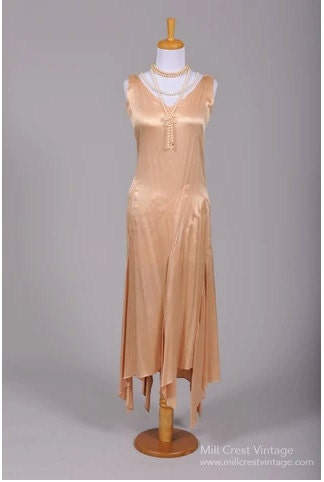 Peach toned, satin, sexy, slinky….you will look drop dead gorgeous in this. The wide tapered shoulders, V-neck and gathered gore style skirt will really show off your figure. A great one for slim builds, the scooped back and asymmetrical skirt add a bit of 1930's pizzazz.
1930 EMBROIDERED PEACH VINTAGE WEDDING GOWN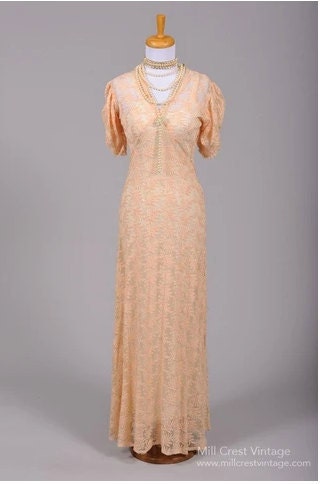 If you just LURVE lace, then this one is for you. The high back and V-neck front make for a modest appearance but the shelf-style bust line, really gives this dress its style. A little more figure hugging than others and a sheer peach overlay, it pairs beautifully with a cream or off white slip.
1930 EMBROIDERED VINTAGE WEDDING DRESS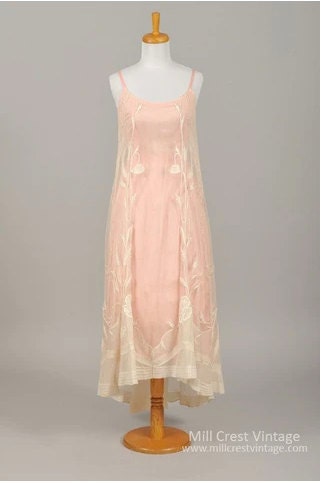 Made of a flowy outer layer of embroidered cotton over a slender a silk slip dress, thin straps and a scooped neckline this dress is the perfect choice for an outdoor summer wedding. Cool and casual, this French beauty is dainty and ultra feminine waiting for that beautiful boho vintage bride.1930 SALMON SLIPPER SATIN VINTAGE WEDDING GOWN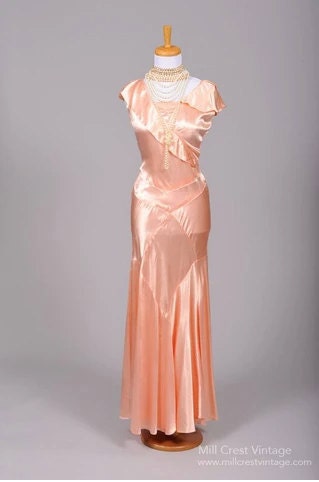 This salmon coloured silk dress is to-die-for. Totally figure hugging, there is nowhere to hide but will definitely leave you feeling on top of the world. A 1930's design, it is the ultimate in post WW1 decadence. The cooped neckline, capped sleeves, semi scooped back and trumpet style skirt is delightfully feminine without being over the top frivolous. 
1940 PEACH LACE VINTAGE WEDDING GOWN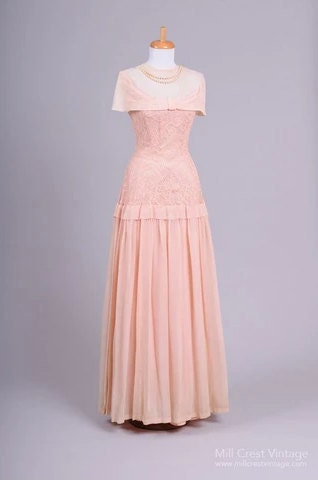 This soft peach 1940's dress is a winner with its lace bodice and synthetic chiffon skirt. The pretty shawl style wrap of sheer synthetic chiffon offers a high jewel neckline and is ultra elegant and very feminine, while cleverly balancing out the dropped waist to highlight the well fitted body of the dress and ultimately lengthening the torso. Overall; a very classic look for this period.1940 PEACH SILK LACE VINTAGE WEDDING GOWN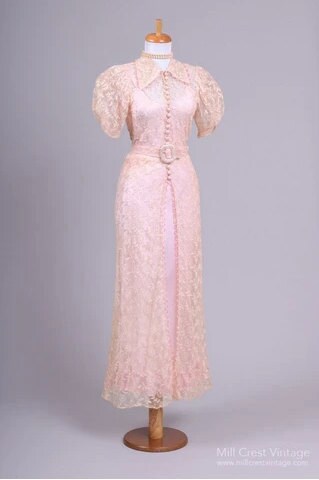 Peach toned cotton silk embroidery on sheer net, this dress is both unusual and elegant. The puffed sleeves, high point collar, buttoned embroidered sheer cotton and high belted waist certainly make for a statement piece. Wear over a matching slip as a dress in it's own right or as a duster to complement a simple yet elegant wedding dress with either thin spaghetti straps or even no straps at all.  
1940 PINK CHIFFON VINTAGE WEDDING GOWN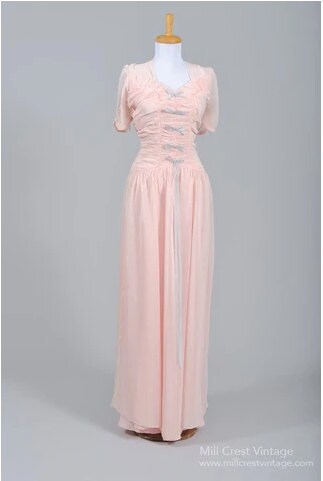 Looking for something figure hugging to accentuate those curves, then this is your dress. The tight fitted bodice, sweetheart neckline and Basque style waist line is the ultimate in vintage body contouring. The pink silk chiffon over pink crepe lining gives this dress its flare, the periwinkle blue dotted satin bows; the flourishing detail. It is very girly and very dainty. The ruched-capped sleeves in sheer pink silk chiffon flatter the neckline without being too revealing and the high back of the dress is in keeping with 1940s modesty. It is both subtle and striking.
1950 PEACH LIQUID SILK VINTAGE WEDDING GOWN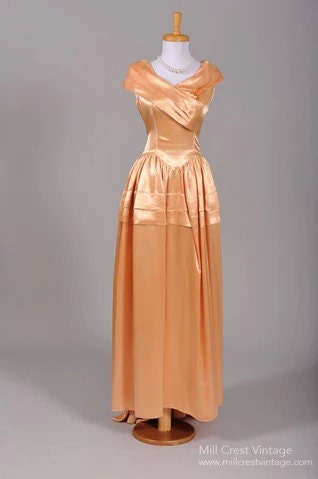 This silk, shinny number definitely has a certain wow factor. The full skirt and semi gathered shawl styled design on the chest emphasis the V-shaped Basque waistline. Both the V detail on neck and waistline form the main design of the dress and give it a very flattering finish. The two stitched horizontal pleats that adorn the skirt add just enough detail to complement the shoulders and ensure that the remainder of the skirt stands out against the simplicity of bodice. This works to both lengthen the upper part of dress and the pleats continue around the dress to form an elegant fishtail back.1950 BLUSH LACE VINTAGE WEDDING ENSEMBLE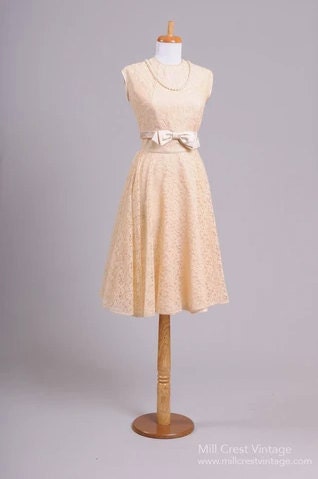 Delicate blush toned lace over cream acetate lining – we have no other way of putting it then just 'adorable'. This wedding dress has a fun, girly feel to it reminiscent of the typical youthful 1950's dance scene when rock 'n' roll and swing were at their height. It is the kind of dress that just makes you smile. The high neck is great for women who don't wish to show too much chest while the sleeveless body, satin piped jeweled neckline and simple satin bow at the waist lends the dress a wonderfully dainty finishing touch.
1960 MOD LACE VINTAGE WEDDING DRESS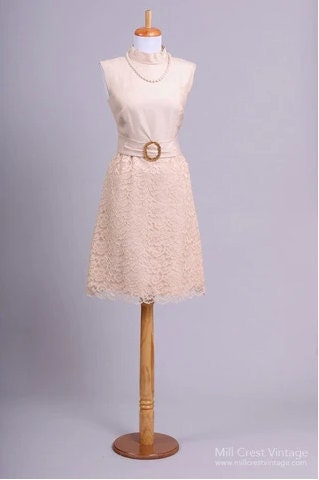 Simple but elegant – this is the perfect dress for a lady who would like a little touch of something different. A more formal outfit than some, this vintage wedding dress is conservative but with a playful lace skirt overlay. A blushing beauty, the high neck elongates the body and showcases the waistline sash and brooch, that in turn serve to accentuate the detail of the skirt and overlay. Combine with lace gloves and a birdcage hairpiece for a true vintage ensemble.1970 PEACH LACE VINTAGE WEDDING DRESS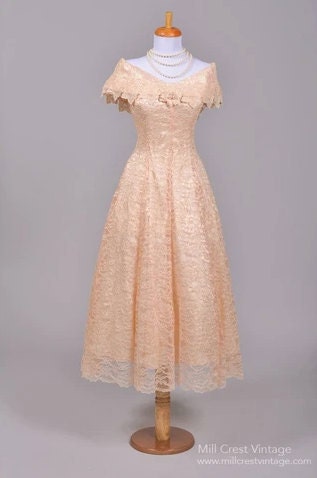 Peach lace over an acetate lining with floral lace appliqué trim, the boned bodice into an A line, tea length skirt helps to define the hips, balance out the line of the shoulders and focus on the slimming bodice. The lack of a defined focal point at the waistline, the dress is very aesthetically pleasing and showcases a nice flow of design from top to bottom. Placing emphasis on the shoulders, neckline and waistline, it is a wonderful dress in which to accentuate your figure in all the right places. The wide bateau neckline equally helps to accentuate the body and the semi-attached shawl style collar can worn on or off the shoulder according to the desired effect. The dress combines beautifully with an ornate floral vintage style necklace or set of pearls. Lace gloves would also work but suggest keeping hair adornments simple.1970 PEACH VINTAGE WEDDING ENSEMBLE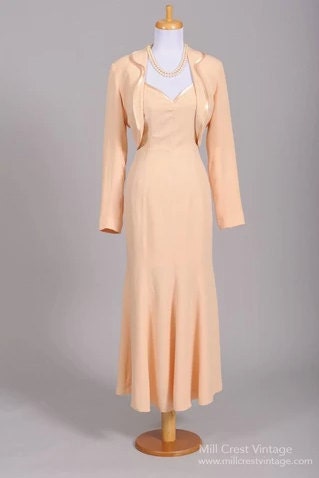 This tight fitting number is utterly wonderful. While it is definitely made for a slim, slender build, it also succeeds in celebrating a curvy hip line in honor of the hour-glass figure. If you've got it….this is the dress in which to flaunt it! The stunning simplicity of the design of this vintage dress, quite honestly has left us lost for words. It is really just goes to show that uncomplicated designs can be just as much as a 'wow' as ornate ensembles. The peach toned rayon blend over a light apricot acetate lining is very soft on the eye; the sweetheart neckline, spaghetti straps and satin trim as striking as they are understated. It is the perfect wedding dress option for a bride that doesn't want all the usual frills and trimmings of other vintage pieces. The bolero style jacket adds a little extra 'je ne sais quoi' but the dress works just as wonderfully as a solo piece when it is time to hit that dance floor. The tulip cut skirt helps to complete the flow of the design giving it just enough lure and movement to pull the eye downward in appreciation of the whole flow of the dress. The bonus is you can bling it up, bling it down and the classic cut allows for ample to opportunity to wear it again. Oh so elegant – what a classic buy ladies!1970 PEACH CHARMEUSE VINTAGE WEDDING DRESS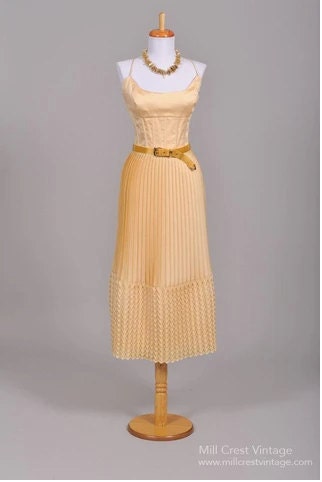 Now this dress just shouts 'fun' from top to bottom. There is quite a lot going on here with the sleeveless bodice, shelf style bust, scooped neckline, extremely low straight back and thin spaghetti straps. The bodice is also boned, which visible through the Charmeuse, adds additional interest. The dress is definitely intended to flatter the neck, waist, bust and hips so if you are worried about accentuating your curves, you might not want to go for this naughty number. The combination of the accordion pleating and interesting chevron cut pleating is both flirty and frivolous.1970 PINK AFTERNOON VINTAGE WEDDING DRESS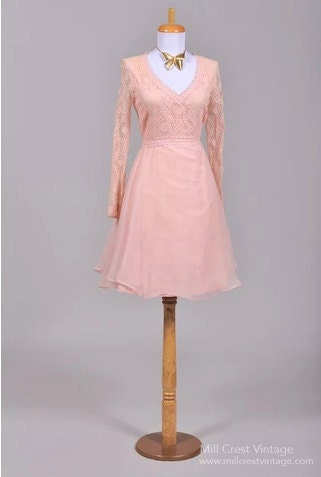 Hello rock and roll bride! Circular patterned crocheted cotton with poly chiffon over acetate lining, this vintage wedding dress bargain is a great choice for those who feel pretty in pink. Some older brides may feel it is a bit too short but it is ideal for those who want to step away from anything too serious and it will work well for either an indoor or outdoor civil ceremony. While the ballerina style A-line chiffon skirt and V-neck give the dress it's charming playful edge, the lace sleeves add some good 'ole classic elegance. I mean, where can anyone go wrong with lace?1970 PINK LACE VINTAGE WEDDING DRESS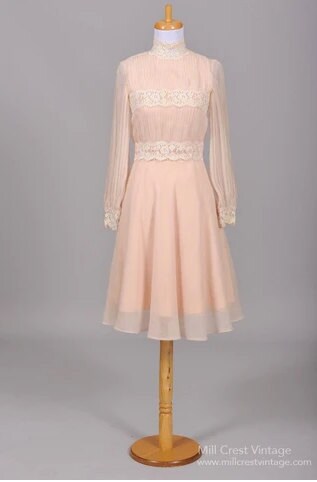 Very modest but complete with dainty lacy decorative details, this is a great fit for a lady who doesn't want to bare all when it comes to the chest area but doesn't mind showing a little leg. Some may find the Victorian style high scalloped lace banded neckline a little too much material at first but will be surprised to find that it is actually extremely faltering. No you don't have to be tall or long in the body to wear it. The design elongates the neck and body encouraging the eye to focus downwards on the lace bands, natural waistline and floaty silk chiffon skirt with its silk crepe lining. The loose sleeves also add 'length' to the over look of the dress. Overall, the dress is exceptionally pretty and definitely one of a kind.1970 SHEER LACE VINTAGE WEDDING DRESS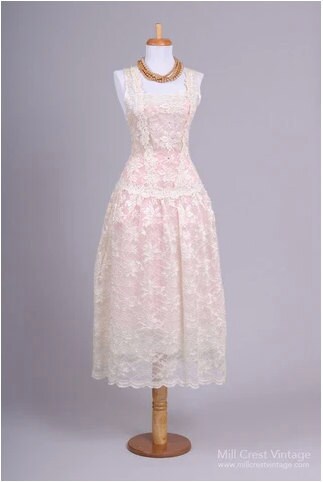 A 1970's gem of a buy, this sheer shimmering white net and ecru poly blend floral lace dress is an utter delight. It is not lined so we have paired it with a soft pink slip but you could also opt for white or peach or even a beige come champagne color. The dropped waist elongates the body and gives the dress a 1920's 'Great Gatsby' style flare. Despite the straight neckline, the vertical floral lace appliqués really help to define the body and waist making it very flattering for the figure. Soft, delicate and very ladylike, this lace sheath dress will be a definite talking point.1970 TIERED LACE VINTAGE WEDDING GOWN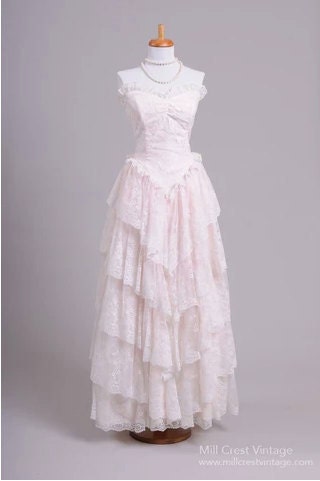 Don't want the traditional white but a bright solid color doesn't grab you either? We could have found the solution to your wedding dress dilemma. This light soft pink hue under white poly floral lace could have your name on it, and if vintage lace, frills and Basque style waistlines are your kind of thing, this is a winner. This wedding dress is a true vintage meets modern marriage. The strapless bodice, sweetheart neckline and gathered bust; a sign of times to come - the ruffled lace trim and Victorian inspired full length skirt; a curtsey to times gone past. It is the V-cut lace skirt however, that provides the wow factor. It certainly comes will all the bells and whistles or should be says, frills and ruffles. You will leave your guests speechless, to say nothing of your groom!