Wondering what will suit you, what is a reasonable amount to spend on a dress, how you will know when you have found 'the one', what happens if you don't find something immediately, how far in advance of the wedding do you start looking. These are questions every bride struggles with, so it is normal that you ask them. After all, it is a big day and all eyes are upon you. It is normal that you want to look your very best.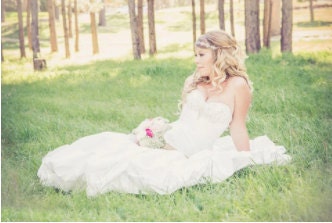 Here are some of our top tips to put your mind at ease:  
Plan Ahead Always allow for plenty of time when it comes to wedding dress shopping. It is not something you want to rush. Hitting the panic button because you fear you wont find what you want in time, is not much fun. It is not just finding the dress that takes time either. Remember to always factor in order and delivery time, dress fitting sessions and alterations, the search for shoes and other complements to bring the whole wedding ensemble together.  
Keep an Open Mind Let go of that 'dream' dress. While that might sound like madness, it will make sense it you keep reading! What may look great on the page of a glossy bridal magazine, may not look good on you, not matter what you do. Now we know how much this realization may disappoint but you need to feel fabulous when you wear your wedding dress and you might need to accept, that the best fit, might come from the most unexpected design. Your 'dream' dress is the one that will suit your height, frame, weight, and even your personality. Keeping an open mind and trying on styles that you have never before considered, will open you up to finding the dress with that 'wow' factor. Let the dress fit you, rather than you try to fit the dress….if you get what we mean.  
Ordering Online Don't be afraid to order online. There are some great dresses to be had at amazing prices and nearly half than off-the-shelf ones. Don't let anyone kid you either that it takes the fun out of wedding dress shopping – sit down with your besties and surf away. I mean, where else in the world can you open up some wine and order in pizza while embarking on the wedding dress hunt! We do advise however, that you always check out terms and conditions, returns and reviews. It is also worth ensuring that you can get on the phone and talk through your choices with someone. Bridal dress assistants are great dress vs body shape judges and will be able to guide you through your selection. Remember that matching the dress to the bride is their living, so it is worth taking advantage of this experience. Be also sure to yourself properly measured so you can find the perfect fit.  
Alterations Bar re-designing the dress, there are always ways you can personalize it. Adding a little touch of something here or there, adding in or taking out the straps, adorning with gloves, bolero jackets, jewellery and hair pieces can go a long way in making a big difference.  
Style Whether you plan to order online for that bargain buy or not, there is nothing to say you can't try on a variety of different style wedding dresses at your local bridal to find the shape that best suits you. As we mentioned, until you try, you never know. Always be prepared to step out of your comfort zone and try on some recommendations. I mean, if nothing else, just have some fun!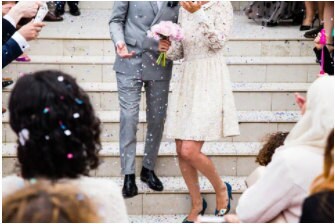 Budget Money is never an easy subject but if you don't have it, you can't magic it. We strongly advise against loans or spending well above what you can afford. Don't allow society, friends or family to guilt trip you into spending more than you are comfortable with. Just because you buy on a budget, doesn't mean it is any less of a dress or won't be that 'dream come true'. It is the shape and style of dress that counts, not how much it costs.Sales Look out for sales, discounted items, second hand racks and vintage pieces that often come at a lower cost that off-the-peg designer items. There are some one-of-a-kind gems out there that will not cost you the earth, you just have to be patient and not be afraid to look off the beaten track!The 'One' You may not know exactly what you are looking for until you find it but when you do, you just know. Be prepared to end up with quite the opposite of what you had in mind but if it makes you feel like a million dollars and the price tag hasn't given you a heart attack – then it has your name on it. Never feel pressured into buying something because you feel you are running out of time or if it hasn't completely won you over, no matter what anyone else says. It is OK to keep looking. As we said, you will know when you have found it!Where to Start Wedding dress hunting is overwhelming. With so many wedding designers, bridal shops, magazines and wedding fairs, it easy to understand why it would seem that the entire world has an opinion. It is no wonder that brides often end up feeling lost among the myriad of choices. So why not start with the style you want your wedding to take? Have you always dreamed of a vintage inspired affair, a rock 'n' roll extravaganza, a great Gatsby theme or would you prefer to keep things simple but elegant - a classic, timeless set-up of white and gold? Even if you need to work backwards and start with what you definitely don't want, it will help you focus on what you do and might give you some idea of the style of dress you envision yourself in. Wedding dress hunting is a careful process of elimination. You might not like the overall shape of one dress but ask yourself if there are elements of it that you do like and what these are. Check out different lengths, discover what aspects of your figure you would like to highlight or hide, what shape suits you best and what you feel comfortable in; whether it is a low waist or a high neck. There is something out there for everyone.